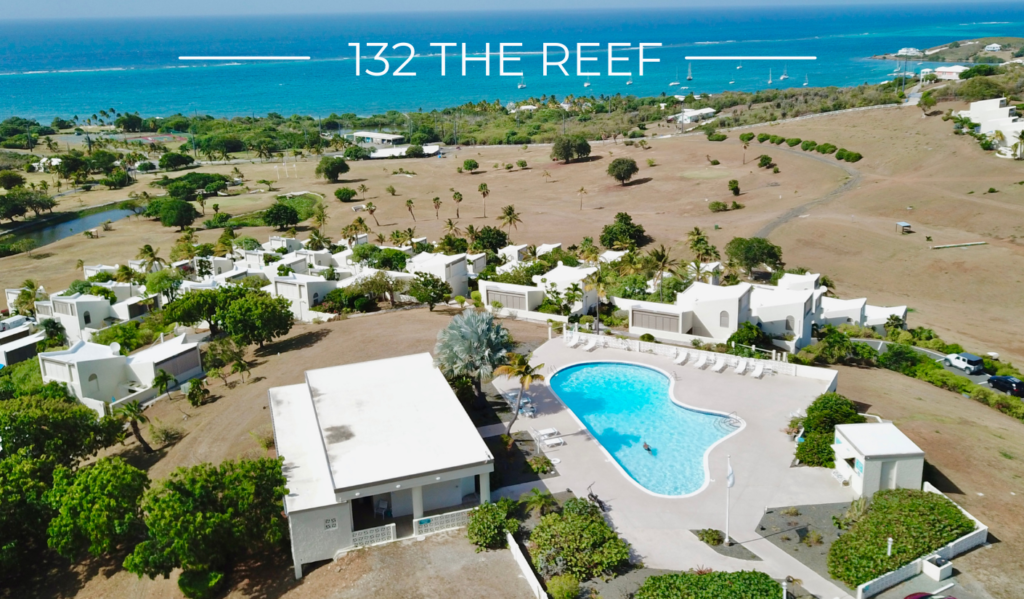 Hillside island oasis on the East End! This lovely condo sits hillside within The Reef Condominiums and golf course. A unique stand-alone unit on the coveted front row, provides complete open views to the Caribbean ocean and overlooking Buck island. Retractable awning on front gallery allows for a perfect shaded lounge, all while taking in the island breeze. This unit was featured on HGTV's Beachfront Bargain Hunt and provides an excellent rental history upon request. Extensive renovations were done in 2020 and 2016, making this quiet and private property the perfect care free home or getaway. Additional amenities include a gorgeous hilltop swimming pool, tennis courts. Just a short walk or golf cart ride to TLC Bakery, the Casiono, Duggan's Restaurant, hillside beach hikes and much more.
View the MLS listing here.
Square footage: 950
Taxes: $412.44
MLS #: 21-1083
HOA Fees Include:
Gated with video surveillance, Exterminating and trash collection included, Insurance included
REEF 132 UNIQUE FEATURES
-Coveted front row with completely unobstructed view of Buck Island and Teague Bay
-No damage from 2017's Hurricanes Irma & Maria
-Extensive renovations in 2020 & 2016 (see separate, detailed list)
-Retractable awning on front patio
-Excellent vacation rental history (renters love it!)
– 2019 was the last year it had rentals (5 months during peak season); earnings for that
period were $34,086
-Featured on HGTV's Beachfront Bargain Hunt (can include this in online vacation rental listings)
-Extremely quiet/private; owners on either side are so lovely and are not on STX year-round
– 133 – winters only; never rents to anyone
– 131 – a few weeks/year; rarely has short-term vacation renters-The Reef Condominiums
-Security guard at gate entire night (and soon will be 24 hours) and on call in daylight hours
-Reverse Osmosis (RO) water plant (makes all water drinkable; best water on the island!)
-Golf course & 2 restaurants on the condo complex's property (Duggan's Reef and TLC Café)
Beach across street (only a few minutes' walk); breathtaking hiking trails only a 10-minute drive
Gardening is welcomed; we've planted/grown fruits, vegetables, and flowering plants
Your own coconut palm tree by your patio and harvesting pole w/blade to cut down coconuts
Board President, General Manager, & Reef staff are excellent
REEF 132 RENOVATIONS
*All items include installation/laborHot Water Heater (2020) $550
Generator (2020) $450
Breaker Box, Outlets, Light Switches, & Misc Electrical (2016) $1650
Mini-Split Air Conditioning (2017) $5500
(Island Mechanical has also conducted our annual cleanings)
Tile Floors Downstairs & Stairwell, Baseboards (2017) $7250
(Baseboards: Water-resistant, termite-resistant, will not rot like wood)
Painting: All interior walls, ceilings, trim, & exterior patio/terrace (2016) $2400
Major Appliances (2016 & 2017) $2370
Solid Wood Exterior Doors (2018) & Interior Barn Doors Upstairs (2020) $800
Bathroom Elongated Toilets (2016) $200
Bathroom Skylights (2018) (Hurricane Impact Glass) $400
Kitchen & Half Bath: Extensive Remodel (2020) $14,640
Kitchen: Quartz Countertop, Glass Backsplash/Ledge, Open Shelving
Kitchen: Sink, Faucet/Fixtures, Water Filtration System/Faucet
Kitchen: White Cabinets and White Buffet/Server
Kitchen: Ceiling (Gutted/Sheetrocked)
Kitchen: Added Ceiling Trap Door (To access upstairs plumbing if ever needed)
Half Bath: Lighting Fixtures & Mirrors, Vanity/Sink
Half Bath: Walls/Ceilings (Gutted/Sheetrocked)
SUBTOTAL: $36,210Furnishings (all included in sale of condo)
Kitchen: Table, Barstools (2017) $1150
Living Room: 2 Teak Sifat Chairs (Sweet Lime Furnishings), Sofa, Desk (2016) $2125
Patio: Full Outdoor Set – Chairs, Loveseat, Table (Set 2016; New Cushions 2019) $840
Bedroom: King Pillowtop Mattress Set (2016) $1175
SUBTOTAL: $5290TOTAL: $41,500
Regarding our utilities:
I've attached 2 recent monthly Reef statements (we don't receive WAPA bills, as The Reef pays WAPA and then includes our utilities charges on our monthly statements along with condo fees, hurricane insurance, etc.).
You'll see on the statements that The Reef adds a 7% electricity surcharge for managing these utilities/bills.
We work from home full-time and run our AC wide open 24/7. Someone who's not working from home here all day would have far lower utilities.
Our utilities always go down in the cooler months (Dec – April), they range from $300 to $450 per month, and our annual averages across the entire year for both water & electric are $376/month (total), broken down into $235/month (electric only), & $141/month (water only).
2 recent months (full statements attached, but I've summarized/clarified below in a way that may be more helpful for potential buyers):
April 2021
This billing period covered 32 days; thus total below was $10.53/day ($6.37/day electric and $4.50/day water), including the Reef surcharge
Water: 1550 Gallons = $139.50; Electric: 439 KWS = $184.38; Reef Electricity Surcharge (7%) = $13.17
May 2021:
This billing period covered 29 days; thus total below was $13.42/day ($7.99/day electric and $5.43/day water), including the Reef surcharge
Water: 1750 Gallons = $157.50; Electric: 515 KWS = $216.30; Reef Electricity Surcharge (7%) = $15.45